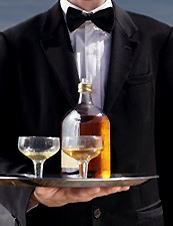 The history of bottle service is a long and controversial tale full of heroes, villains, leggy models and occasionally Lindsay Lohan. Here's a quick refresher*...
October 3, 1993:
First bottle served in the Tunnel VIP room.
August 26, 1996:
First bond trader buys his way into a club via a large bottle of Stoli. Several other finance professionals follow suit. Chaos ensues.
February 14, 2001:
First documented combination of model and bottle at Bungalow 8, leading to the coining of the ubiquitous phrase "models and bottles."
October 5, 2009 (here, today):
The first time you can reserve a bottle online, thanks to
Nightloop
, an invite-only online bottle-service reservation engine, officially launching for UrbanDaddy members starting today.
On this historic day, you're probably thinking all is finally right with the world. But, we promise, there will be a day when you need it, and on that day you'll be glad for the simple concept—think OpenTable, but for bottle service. Once you're a member, you click your desired party of choice (Avenue, Griffin, Greenhouse, The Gates), pick when you want to grace said party with your bottled presence and you're officially confirmed over email.
As with anything bottle service, you'll place your deposit toward a maximum number of co-revelers (party for 4 at Avenue tonight is going for $4000), but you'll glide by the huddled masses outside without breaking stride all because of your ability to point and click.
And thus, the bottle service circle of life meets the digital age.
*Dates are approximate, if not totally made up. Except today's date.