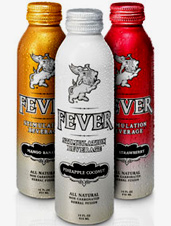 When it comes to matters of the bedroom, you've got no issues. None whatsoever.
But let's say, hypothetically speaking, that one day in the future you were looking to break a few records. To give the locomotive that extra jolt. To go for a fourth.
In those cases you might turn to an ambitious new elixir called
Fever Stimulation Beverage,
a drink that promises to amp up your libido (and hers) using nothing but herbs, vitamins and a little green tea caffeine.
Now, we realize that you may be thinking this sounds like a whole lot of marketing hogwash—and we respect that about you—but we're always willing to suspend our disbelief for the sake of a little bat-out-of-hell virility. And while you may not experience an hours-long tantric lovemaking marathon à la Sting (seriously, we hear the man is a pretzel), you may end up surprising your date with a bit more tiger intensity.
Or vice versa…you should probably each drink one.