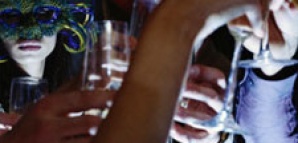 You can find almost anything in Manhattan. Case in point:
underground sex parties
. If you're looking for a sex party in a castle, however, New York is sadly deficient.
That's what Europe is for.
Swiss entrepreneur Andrej Lorenc, bored with the normal kinky soirée options in Europe, has been throwing private parties in rented castles since 1999, recently turning pleasure into business with the organization
Castle Events
. Their parties gather erotically minded people in "fantasy locations" under the philosophy that, "Nothing
must
happen—but anything can." Don't expect to get across the moat without a fight—the screening process requires pictures, essay questions ("What does eroticism mean to you?") and at the highest levels, a nearly $2,000 annual membership fee.
But once you're in, you'll be invited to six parties each year—masked balls à la
Eyes Wide Shut
in castles all over the Continent. Each night starts with a gourmet dinner and free-flowing champagne, letting you get to know your fellow partygoers—70 young, attractive men and women (gender balance guaranteed) wearing satin capes, handmade Venetian masks and little else. After dinner comes the silent chamber ceremony, which you're contractually obligated to keep secret (but might include a procession of chamber maidens). Afterward, you'll drink at the open bar, dance to the beats of a choice DJ and then—well, do whatever you're moved to in a castle filled with lovely half-naked European women, pulsing music and dark, unexplored passageways. And if you've paid the
König
-level dues, you can escape to your own private chamber.
It's good to be king.