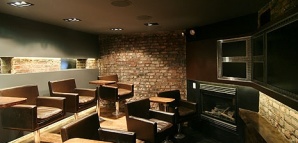 When it comes to the finer things in life—aged bourbon, rare wine, televised athletics—you like to have options. Sure, one flat screen allows you to follow A-Rod and Jeter. But what about that Giants-Panthers preseason clash?

Thankfully, a new sports bar helps you take it all in—without sacrificing the leather upholstery and fresh seafood to which you've grown accustomed. Behold: The Blue Seats.

Opening next week on the LES, the two-level, 62-flat-screen, leather-encased sports palace is like the den of your summer house, only with a lot more TVs, a better sound system and a superior raw bar. To fully use it, you'll want to grab one of the four private leather booths, which feature five flat panels (three on one end of your booth, two on the other) that can be set to five different games selected from the place's extensive satellite cache. (If there's a non-sports fan among you, sacrifice one of the TVs to a Sex and the City rerun and leave it at that.)

For even greater separation from the crowd, we recommend stepping up to one of two rental-only private screening rooms with bottle service: the eight-seat, seven-screen, one-fireplace Dugout (to give that playoff game a more rustic feel) or the 12-screen, 17-seat Skybox. And wherever you settle in, you can nosh on elevated sports bar fare like Asian-style chicken wings, oysters on the half shell and scallops wrapped in bacon.

Game on.