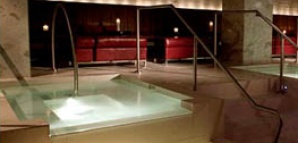 The greatest places are often the hardest to find.
You do your best, sometimes even soliciting and following "directions" (it's just down there, to the left), but like finding gratifying gifts for your girl, the golden spots are just not in general view.
Such is the case with the
G Spa
, a new spa and lounge tucked away deep within the nether regions of the
Hotel Gansevoort
. By day, the space is a full-service spa. By night, massage tables in the red-glass-walled cabana rooms are replaced with red leather banquettes, infinity-edge hot tubs are covered with glass and an atmosphere courtesy of
Butter
alums
Scott Sartiano
and Richie Akiva make for a setting you might describe as, well, orgasmic.
And in case you've worked up an appetite getting there, the lounge offers small plates from Jeffrey Chodorow's
Ono
. For this and other obvious reasons, the G Spa is a spot you should get to know well.
Of course, the spot is very small and easy to miss (hit the elevator's LL button and turn past the fitness room), and like many a good date, hard to access.
But it's hardly a secret that after finding it, you'll both be inclined to come—and go—multiple times.