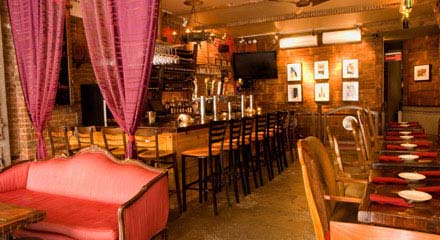 You can't remember the last time you washed down a Zapiekanka with some nice Akhasheni.

And as we all know, that's a problem.

Here to fill the Polish void in your life: the low-key East Village spot Klimat.

Opened quietly a few weeks back, Klimat is like a neighborhood pub straight out of Krakow. Pull up a bar stool under the medieval cast-iron chandelier made of axes to sample any of the bar's wines and draft beers (yes, small servings are on the house, further proving 31 Flavors' worldwide influence). The wine list is heavy on the Georgian front (it's the Napa of Eastern Europe), but what you should really pursue is the rare beer selection not to be found elsewhere in the city—equal parts Polish, Czech, Russian and Ukrainian (sort of like you). Go for the Zywiec to find out why it's Poland's most popular beer, or if you're looking for a heartier brew, try the 9.5% alcohol Lvivske Porter (it's like a more filling...Lvivske).

To catch a breeze, grab one of the picnic-style tables near the wide open storefront, and don't be disoriented by all the Polish spoken around you. (The burly guy at the bar probably isn't in the mafia.) As you snack on kielbasa, pierogi and marinated salmon, take in the 1930s pictures from the Zywiec factory and the building's original tagged-up door hanging next to the bar.

Ah, to be young and west of Warsaw...