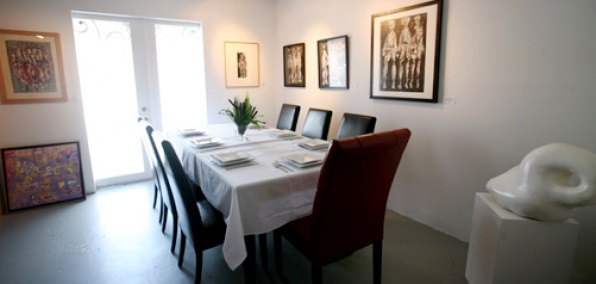 Let's say, for argument's sake, you're dating Natalie Portman.
You appreciate her body of work (no one looks more enchanting in a soft helmet), and she likes…what you bring to the table.
Except for steak. She doesn't go for that. Or dairy products.
Which has put you in a bit of a bind when it comes to grabbing a bite to eat together. But just when you feared Miami wasn't fit to woo a health-conscious, animal-loving starlet, along comes
Galerie Gourmet
, a vegan-friendly BYO spot, now open in Wynwood.
If the road to her heart is paved with tofu bricks, then this is the place to begin that magical journey. The constantly changing menu contains such elegantly non-meaty offerings as
Soba Noodles With Organic Cremini

Mushroom Sauce
,
Coconut Mango Pad Thai
and
Chocolate Clay-Pot With Cocoa Nips and Cashew Cream
(as you know, dessert is when vegans really let it all hang out).
Right now they're in soft-open mode, so you'll come here for lunch or on Second Saturday gallery nights, when they host documentary screenings and art openings. And because it's BYO, you'll want to show up with your own bottle of wine.
Something from Oregon should do the trick.