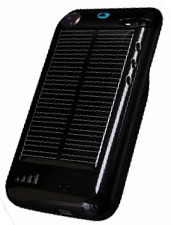 You couldn't have rehearsed this... She's chuckled at every joke. She's into it.
It's rolling along, then…silence. Phone, officially dead. No charger in sight. And all that gold material, all those witty bon mots…lost. You: alone.
With this cold, dark scenario in mind, allow us to introduce you to the
Solar Surge
, the first Apple-approved, solar-powered skin that charges your iPhone or iPod Touch anywhere the sun shines, available for preorder now.
Developed by San Leandro–based Novothink, this slick case exists for the sole purpose of making sure that your phone has enough power so you can close your next deal while sunning yourself on a yacht with a mojito in the other hand (as you're known to do).
Outfitted with custom-sized solar panels, the smallish (less than three ounces) skin isn't much bigger than your average case—especially considering its charging power. With direct sun, it takes two hours to take your phone's battery from zero to fully loaded. Sure, that sounds like forever, but that's two hours on the back nine at Pebble, two hours in Napa or two hours at the Niners game—not two hours tethered to your desk.
And once your case arrives, you can use the accompanying Solar Planner app, which factors cloud cover, time of day and other conditions to approximate your sunray requirements at any given time.
Think of it as looking on the bright side.