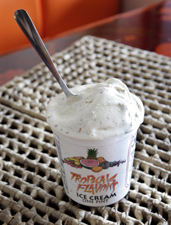 Barbecue and ice cream. The two most important food groups of the summer.
And though we've just recently closed the book on the hot season, we think there may still be time for a bit of delicious cross-pollination.
Introducing
Paul Johnson's Jerk Ice Cream
, a spicy marriage of Jamaican grilling secrets and your favorite dessert, now available for post-meal adventures.
Think of this frozen treat as the
Cool Runnings
of the dessert world. It's what you get when you take traditional jerk seasonings—in this case, a fiery mix of scotch bonnet pepper (the hottest pepper on earth), cinnamon, nutmeg, cloves and a few secret ingredients—and transport them to a land of ice, snow and…cream. It took mad scientist and jerk ice cream inventor Paul Johnson 20 years to figure out how to temper the pyro-tongue burn element inherent to the pepper. And now that he has, the result is something akin to the kick you get from a chipotle martini, but with a sweet, milky cushion to temper the fire.
It's the kind of thing you'll want to bring along with you the next time your Rastafarian friends fire up the smoker for one of their legendary jerk chicken marathons. And when the inevitable munchies kick in, you'll be right there, pint and spoons in hand.
Back to the drawing board, Chunky Monkey.