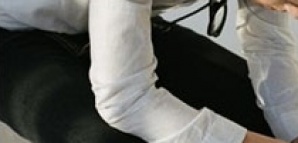 When a men's fashion designer states that guys don't want to look like an ice cream cone, there's a certain level of trust that immediately gets established.

Robert Geller (said designer) hails from Germany, co-designed for Cloak and debuts his eponymous men's collection this month. We sat down with him—as a Euro expat, Geller, like his line, is cool but thankfully not too much so.

His first collection for fall takes inspiration from Jean-Paul Belmondo, the James Dean of French New Wave film. If that doesn't mean anything to you (as maybe it shouldn't), think a moody, roguish fellow driving an old Porsche, smoking, sporting a leather jacket and accompanied by the hottest French girls. Apparently, this kind of lifestyle requires threads like washed cotton button-downs with tabbed collars, double-breasted wool cardigans and velveteen cadet jackets. True to his German roots, Geller also pays attention to the details and peppers his line with stark, standout ones—like looped button tabs on coats and jacket collars lined with Japanese mountain goat fur (if that doesn't say French playboy, we don't know what does).

His collection hits stores at the end of the month, along with accessories like double-latched leather belts and suspenders.

Then you can focus on more important things...like maybe acquiring that old Porsche.