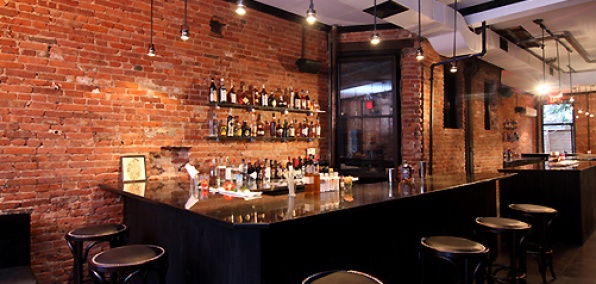 There was a time when Vegas had a perfect mix of swank and swagger. A time when looking at someone the wrong way would get you tossed off the Hoover Dam and when Cirque du Soleil was a French cocktail waitress who introduced you to Sinatra. (Or maybe the other way around.)
Friends, that time is back…only it's been moved to the East Village.
Feast your pretty little eyes on
The Summit Bar
—a go-to neighborhood bar born by the veterans of the Mercer Kitchen, The Standard Miami and Minetta Tavern. And it's opening to the world on Monday.
First things first, when we say Vegas, we're talking about the Rat Pack fighting over showgirls at the Sands. (Usual winner: surprisingly, Joey Bishop.) Second, we're talking about cocktails from a guy named Greg Seider—he built the list at Minetta Tavern and here you'll find him building amazing cocktails on a stretch of land where a proper drink is hard to find.
Summit's menu
is divided into Classic and Alchemist. Meaning if you're jonesing for a little pisco, you can either go classic: pisco sour. Or with the alchemist version: pisco with a Szechwan peppercorn infusion and Damascus rose petals. (And as you know, everything goes better with Damascus rose petals.)
Add a soon-to-be-launched outside patio where you can lounge in cabanas, some internationally inspired off-the-menu punch bowls and an in-house "ice factory," and then we're talking about something old-school Vegas never dared to offer.
A place without gambling.