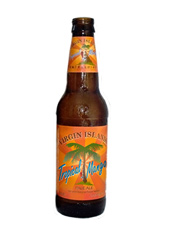 There's nothing like getting back to work after a long weekend.
There you are, sitting at your desk, trying to get to those TPS reports while memories of barbecues, beach volleyball and work-free days taunt you with scents of suntan lotion and muddled mint.
It's time for a beer break. Preferably one with a tropical bent.
Allow us to suggest a chilled
St. John Brewers Tropical Mango Pale Ale
, a mango-infused taste of paradise, now available at your local liquor mart.
Think of this refreshing brew as a Caribbean getaway in a bottle, a light and easy-to-drink answer to the dark and brooding Guinnesses of the world. The fun starts with the label, which conjures lazy afternoons spent lounging on hammocks listening to Bob Marley, leisurely discussing the latest sailboating trends with your caring and intelligent bikini-clad housemates. Bring the beer to your lips, and you'll note the sweet taste of mango, balanced by subtle malt notes and just the right amount of hops (these aren't just estimates either; one of the founders worked at NASA).
Assuming you and mango hit it off, you might want to think about making a pilgrimage to the microbrewery's
tap room
in St. John (just a short ferry ride from St. Thomas), a party HQ home to the most craft beers in the Caribbean.
You could use a vacation.