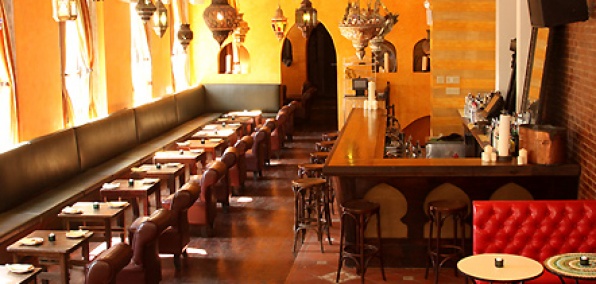 When the not-so-innocent words "debaucherous hookah den" are whispered, two words and two words only come to mind: Le Souk.

But whether or not you have your own hookah there, you may have witnessed the insanity of the Sunday and Monday night blowouts and you've probably seen countless Euros decked in excessive Gabbana dropping gobs of money while under the rapt spell of a lithe belly dancer.

So it's with a mixture of fear, anticipation, love and scorn that we bring you news that the legendarily excessive East Village den of iniquity is opening up shop a little farther west. And it's got a new name…

Ladies and gentlemen, meet Le Souk Harem, in previews this weekend and opening up for your next madcap Middle Eastern adventure next week in the Village.

First off, yes, based on our cursory inspection, you can expect more of the same Middle Eastern craziness. For one, the three-story Harem looks and feels like the O.G. Le Souk—Moroccan lanterns hanging everywhere, cathedral candles, dark wood and tangerine walls—and it's primed to go off like Le Souk.

But know that at Harem you'll find some unique touches. First, the more mellow parts: downstairs has outdoor seating and feels like a bistro—perfect for grabbing some beef tongue carpaccio or the Le Royal plate (Braised Lamb Belly, Lobster Tail, Roasted Bone Marrow and Hibiscus). And the second floor is all beds and tents, a perfect hideaway for...whomever you need to hide away with.

But the third floor is the real show, including a Monday night party called the Arabian Circus hosted by a genie/magician and his merry band of sword swallowers and belly dancers-cum-temptresses.

If it comes down to that or Monday Night Football...