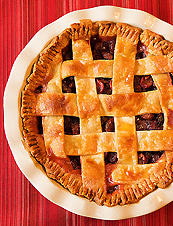 Look. Far be it from us to tell you how to run your life, but we think it's time you consider settling down and making a commitment that will last you the rest of your years.
Don't worry—it involves pie...
We're talking about the new
Pie-for-Life Plan
, a literally life-altering new program from Royers Roundtop Café, based in the land of all things gluttonous and wonderful: Texas.
As with any potential lifelong commitment, you shouldn't go into this lightly. So here's what you need to know: if you sign up, you'll get one pie, delivered directly to your door, once a month, for the rest of your natural days. It'll come as regularly as the season: in May, there's
Bud's Chocolate Chip
(basically, an enormous cookie with pecans), in November, there's
Dr. Karen's Pumpkin
, and in December…well, that's when the nearly foot-long, four-pound
Sin-Nammon Ring
arrives. And they're all handmade in Texas, by a joint that's been around since 1946. (Should you stop in, note that they'll charge you
not
to have ice cream on your pie.)
Now, in taking on a marriage like this, you should expect some compromise. First of all, there's the entry fee: $10,000. And depending on your age, it could cost quite a bit more—Royers uses an actuarial chart to determine how much a lifetime's supply of pie is really worth.
No word on if they factor in actually eating a lifetime's supply of pie.