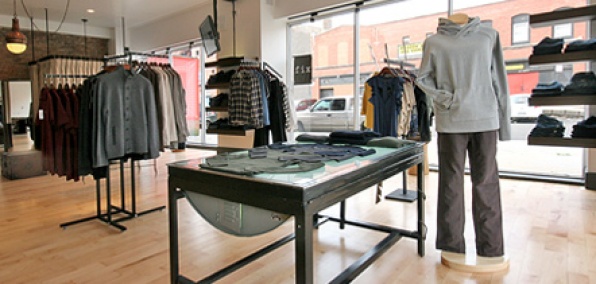 Your last-week-of-summer to-do list is always long. There's the end-of-season imbibing, restocking your autumn threads, and letting your summer fling know she was just a summer fling.

And if you can knock out two of three in one place, well...you always were efficient.

Welcome to Fix, a new West Loop shop-slash-party space that's here to help you stock up (and drink up) for fall.

With its tall ceilings and exposed ductwork, Fix feels a little like a friend's strangely bed-free loft—soft leather armchairs, TVs tuned to SportsCenter and two pretty sisters (who happen to own the place) helping you slip into something more comfortable.

Its current stock is perfect for this weird, in-between season. Think polos from Trovata for your Labor Day boat parties, and new trendy flannel shirts from Steven Alan for when lake conditions turn a little chilly. And puffy leather jackets from Canadian designer Mackage will be handy if you decide to skip returning to work on Tuesday and set sail for Newfoundland instead. (Not that we're giving you any ideas.)

Soon, Fix plans to open a downstairs VIP store-within-store, where big spenders like you can sip scotch from the wet bar before heading to the private dressing room.

To try on clothes, of course...