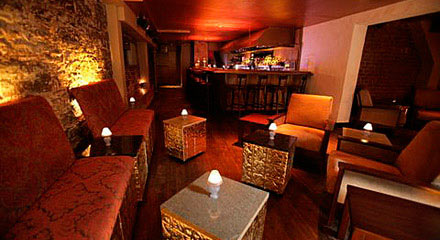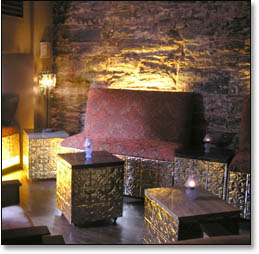 Tonight, the much buzzed-about speakeasy
Blue Owl
opens in the East Village.
Since these days "speakeasy" seems synonymous with "regular bar with a flea market ottoman and a drink named 'Flapper Dan,'" you might be wondering what the real deal is with this place, and whether it's worth a trip east of Bowery.
The answer: Yes. Blue Owl actually has all the elements for getting a night started or winding it down right—creative cocktails, sexy crowd and a chill but entertaining scene.
Spot the Owl
True to speakeasy tradition, you'll have to look a little harder for it—tucked away from street view, you'll spot it by an image of a blue owl hanging unobtrusively over a staircase. Head down the stairs, and enter a small, glowing, underlit cave. Inside, attractive female night owls perch and partake of cocktails, bites, and a great throwback mix of funk and '80s music.
Drink & Meat
For drinks, venture off the cocktail list and ask house mixologist Charles to mix you up something off the menu (you won't be disappointed). Small plates hedge off late-night hunger, especially the tasty charcuterie plate, which comes from the same folks who cure meat for Thomas Keller and Daniel Boulud.
Secret Stash
Of course, because "speakeasy" is also synonymous with "cool secret private hidden very secret underground secret," Blue Owl did one up—a tiny cocktail lounge behind a two-way mirrored door. Small and shaped like a backdoor passageway, it's perfect for private parties of under 15, and comes with its own server, an iPod dock for the host's tunes, and, yes, a separate private entrance (through a gated courtyard off 12th Street).
Blue Owl just might set the word "speakeasy" right again.