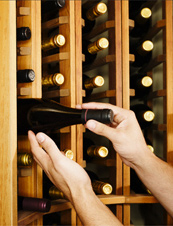 Only yesterday, you were all about rolling up your sleeves and taking
a more hands-on approach to the wine you drink
.
But you're the mercurial sort (that's what we love about you), and today…eh. You're happy to let someone else pick your vino—as long as that someone has exquisite taste, world-renowned credentials and—if it's not too much to ask—can deliver it to your front door. (Oh, and since the condo boom is over, let's not go crazy with the price.)
Here at your beck and call: the ever-gracious sommeliers of Alinea, who bring you
Alinea Oenophilia
, which lets you virtually root around its four-star cellar via a just-launched wine subscription program.
Think of this as Netflix for wine—but without all that picking, choosing and returning the empties.
You'll sign up to receive either 24 or 40 bottles annually (so you might want to get some friends involved). Then, four times a year, you'll open your mailbox to find that it's been stuffed with your quarterly allotment of picks from Alinea's cellar, with tasting notes, sketches of the gastronomical feats that chef Grant Achatz is currently pairing with them—and recipe cards in case you want to give it a shot at home. (You have access to liquid nitrogen, right?)
To kick things off, you receive starter box filled with goodies—including a nice bottle of bubbly.
You always like a little wine before your wine.