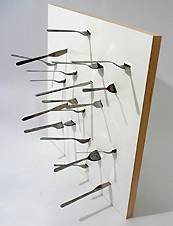 We'd like to draw your attention to your silverware drawer.
Probably for the first time ever.
Sure, the two of you have had a pretty good run. It's kept your cutlery safe and secure, and you've kept it stocked.
But pardon us for thinking outside the drawer…
Introducing the
Thout Forked Up Wall Tile
, a new dartboard/stress reliever/silverware tray—available now.
First things first: you can't
literally
throw your silverware at this and expect it to stick—so maybe that "dartboard" comment was a bit overblown. (Sorry. We got excited…) Instead, it uses the power of rare-earth magnets—the strongest in the world—to keep your forks in place hanging on your wall. And as the brand helpfully notes, it's "compatible with standard cutlery"; if you have non-standard cutlery (we're looking at you, spork enthusiasts), you'll have to look elsewhere.
But when they first see this, guests to your humble abode will probably assume you have a bit of a temper problem. And that's fine—it'll keep them in line. But if, at the end of the night, you feel like graciously letting them in on the secret, tell them it hails from Canada.
Where they have time on their hands to create such life-altering inventions.