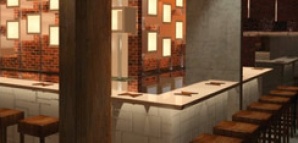 At the end of a hard night out, your options usually fall into two categories—cheap bites (chicken kabobs at your nearest street cart) or trussed-up "diners" (Coffee Shop, Cafeteria). Either one signals pretty clearly: It's the end of the night.
But if you're not quite ready to end the scheming at 4am, head to the new
Pre:Post
(opening tomorrow night)
,
tucked at the far end of the strip of 27th housing
Marquee
,
Bungalow 8
, and
Guesthouse
. Open from noon (for early starters) to 8am (for late finishers), Pre:Post will deliver a lounge scene "pre" or "post" any night out.
Walking into Pre:Post is like entering a bleached urban log cabin, appropriately lounge-ified with mini birchwood log booths, suede banquettes, and a throwback white vinyl-covered bar. The best seats in the house are in the back room—chill below floor level in log-encased sunken glass cabanas (designed by Stephane Dupoux of Nikki Beach Miami) that seat up to eight. A DJ and adjoining bar make this cabana room prime for continued late-night festivities—and for private parties.
Pre:Post also serves the four basic meals you need: breakfast, lunch, dinner and...detox. Detox, served 4am-8am (when liquor sadly is nowhere to be found), consists of alcohol absorbing fare like
Steak and Eggs, Pepperoni
Flatbread
, and
Waffles with Dulce de Leche
.
And if you're looking for a little pre-tox before the detox, their cocktail homages to surrounding nightlife will do the trick, like the
Bungalow 8
(Chambord, Bailey, Stoli Strawberry) or
Scores
(plum juice, simple syrup, lime juice and moscato).
As for where you should hit come 8:01am, we'll keep you posted.