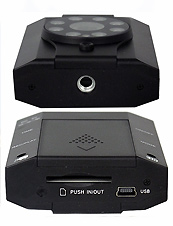 These, friends, are crazy times.
People are rioting at town hall meetings. Michael Vick has a job again. And Hollywood is turning that '80s masterpiece
St. Elmo's Fire
, into a TV show.
Which is why it's time for something comforting. Or failing that, a really crazy piece of surveillance equipment.
Meet the
Brickhouse Wi-Spi x30
, a tiny security camera that should help you focus on what really matters at the office: watching Hulu.
But first, the details: one, a tiny, cigarette pack-sized camera that films your surroundings (with nightvision, which we know will come in handy—we're not sure exactly how yet). And one cellphone-sized monitor, where you can watch your footage live from up to 30 feet away.
Of course, depending on the exact feng shui of your office, the configuration will vary. But try strategically positioning the camera to monitor oncoming traffic, and then put the tiny monitor on your desk in a discreet location. From there, sit back, and
YouTube is your oyster. If it looks like someone is approaching, the screen flashes a little visual warning so you can take action. 

For example, if your boss is dropping by with something that looks like your July expense reports, this is when you pre-emptively get up and run to the bathroom. Alternatively, if that hot little number from accounting is stopping by, you'll have a little time to get ready and musk up.
60 percent of the time, it works every time.