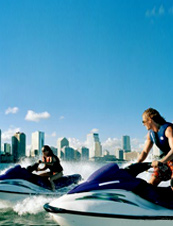 If you close your eyes and let your other senses take over, Manhattan almost seems like a rich and exotic tropical island—balmy breezes, the smell of boat drinks at every corner, and the faint whiz of Jet Skis in the distant surf.
Okay, not even close. But it is an island. And about those Jet Skis...
Say hello to
Jetty Jumpers
, a group of aquatic speed demons running private Jet Ski tours around Manhattan, taking reservations now for your next Bond-esque adventure.
Now, we're not saying that you should forgo your trip to Tahiti because you can Jet Ski around the Lower East Side, but we are saying that if the seaplane you usually take to the Hamptons is in the shop, you can still hit the water with your usual penchant for style and danger.
In this case, you call a guy named Anthony, set up a time, pay a suggested "donation" and show up in appropriate garb (a bathing suit or a tuxedo—either way is fine).
You'll start off in Coney Island, whish your way past the Verrazano Bridge, head toward Manhattan and spray a little water on the tourists at South Street Seaport before decamping at the Sandbar in Jersey City for a quick bite.
For safety reasons, you'll switch off driving with your guide depending on the surf and the other boats in the water.
Look out for the big, green chick with the torch.