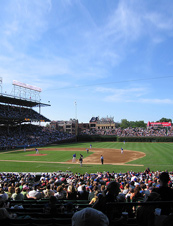 So the Cubs are in town. But when you consider that the average game has (approximately) 23 minutes of game play, and 2 hours and 37 minutes of mound conferences, practice swings and cup adjustments...well, that's a lot of downtime.
Here to make sure you're don't get bored between innings (or beers), is
Wise Guide Wrigley Field
, a handy new iPhone app that harnesses the power of your encyclopedic knowledge of North Side ballpark minutiae for good, not evil.
Fire this up in the bleachers, and behold as a host of trivia questions appear before you.
So when it asks "Which Cub holds the club record with three career no hitters?" and you select (C) "Larry Corcoran," the next round of Bud is on your neighbors. (The app also plays the sound of a crowd roaring with approval—you've always played for the fans.)
And when you're outside the stadium—playing tour guide for your out-of-town guests once again—Wise Guide's Tips section is full of useful info about everyone you'd expect (Sandberg, Harry Caray) to guys like Ronnie "Woo Woo" Wickers (a super-fan whose dentures were paid for by two local bars). Out-of-towners can even use the guide to find best spots for a nearby drink.
You, however, have your favorite place. It's directly under the scoreboard.