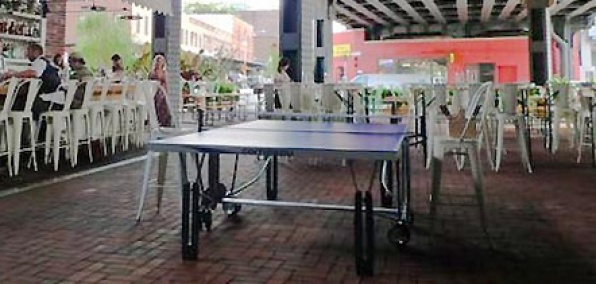 Another summer Friday comes to pass—the clouds have parted, and a gentle breeze is rolling in. So our thoughts yet again travel to the night, booze…and Ping-Pong.

The location: a charming scene that's developed underneath the High Line at The Standard Beer Garden.

Let's recap: only two months ago, André Balazs's Standard Grill opened its sumptuous doors. And not to sound petulant, but, well, we were promised a beer garden— a massive, tree-lined, brick-encased courtyard, with picnic tables and plastic furniture. A place where starlets could frolic about with beer, sausage and Ping-Pong paddles, and dreams would come true.

And for little over a week, that promise has been quietly fulfilled. And so, on any given night, you'll find a crowd about 300 deep—think girls in sundresses, gents in button-downs, all enjoying a casual drink before challenging each other to table tennis, as sundown gives way to mood lighting.

They're still working out some kinks. Like the "beer" part—nothing's on draft yet. (Don't worry, it's coming.) As for the sausages that go with the beer, they're just a few weeks away. As for tableside keg service, we've been told (unofficially) that this could soon be reality. In the meantime, we recommend artfully double-fisting a bottle of Sam Smith Oatmeal Stout and a Summer Bramble before sidling up to one of two Ping-Pong tables. (Beer pong is apparently forbidden, but consider that a suggestion, not a rule.) Oh, and that skinny blonde across the table? That's Kate Hudson.

Go ahead, let her win.