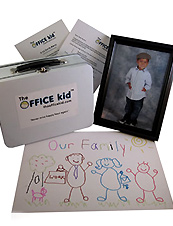 Every once in a while, you've looked over at the dad who is all dadded up in the office next door and felt a little…jealous.
Not because you want a bounty of offspring—but because the bastard's always got some airtight excuse to get out of work.
Now we're not saying you should go out and kidnap some little tyke so you can skip out on filing your TPS reports, but we are saying you might want to look into this thing called
The Office Kid
—an ingenious little kit that gives you all the upside of parenthood, without the pesky downside of having to endure
Bob the Builder
.
Here's how it works: you get a prepackaged box full of kid paraphernalia (framed photos, hand-drawn cartoons of "Daddy," etc.), which you then strew about your cubicle. Then, (and we recommend waiting three to six months before harvesting this strategy's fruit) when you want to take the afternoon off to catch
Inglourious Basterds
—tell your boss, with a feeling of complete sadness and despair, that the kid's got the flu, and produce one of the kit's doctor's notes. Or if the boss asks you late in the day to explain some of your more recent undocumented expense reports—just bust out your child's "artwork" (in actuality, crayon drawings produced by the kit's designer), fake some tears and mutter something about little Timmy's "school art gallery opening." Boom—you're setting sail for happy hour.
And because we know you're concerned: yes, you can pick out your kid's gender and ethnicity. (Finally, something you and Madonna have in common.) And for a little extra veracity (since clearly you care about veracity), they'll even Photoshop you into a sports team photo.
Because you've always wanted to coach.