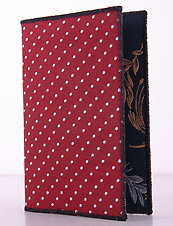 They say all fashion eventually comes back.
What they don't tell you: sometimes it comes back stuffed full of cash.
Here to prove that point is
Narwhal Co.
, the best thing to happen to vintage neckwear since polyester went the way of 8-track tapes.
Hand-stitched from ties reclaimed from the dustheap of fashion history, Narwhal creates the sort of slim wallets that won't cause permanent spine injuries when they're in your back pocket. They make a classic bifold version, a low-profile four-credit card version, and a model known as the
Sattley Slim
, a slightly larger credit card holder with additional pocket space for you to stash cash (or other weekend essentials).
Plus, you'll rest more easily knowing your money is someplace safe and familiar—namely, your dad's old ties. That's because if he has a favorite houndstooth number that he just can't seem to part with, you can send it to Narwhal to have made into the wallet of your choice. They'll use the fabric (carefully avoiding any ancient coffee stains), to turn into a something you'd be proud to carry.
Because cash never goes out of style.