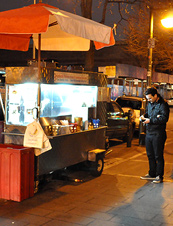 Lately, you've been gorging yourself on gourmet food served in all manner of portable devices—trucks, pushcarts, bicycles.
And maybe you've gotten a little lost, forgot what street food really tastes like.
Here as a delicious reminder of the humble art of street food is
Adobo Hobo
—San Francisco's first street food cart helmed by a real estate broker, serving up the ultimate in Filipino comfort food, chicken adobo, by the plateful now.
Think of the cart as a take on the Manila street food scene in the Mission—except that chef/partner Jason took his family's time-tested recipes and updated them to San Francisco standards. Meaning this meaty, slow-cooked stew (which originated as a dish for Filipino mountaineers because of its long shelf life) is now made with organic, skinless drumsticks and is an ideal way to warm up on a foggy afternoon in the park.
Follow @AdoboHobo, and be at the ready when he tweets his locale—generally Dolores Park or the bar-soaked Mission sidewalks (ideal for when you don't want to abandon your barstool). And if you're having trouble spotting him—a six-foot-tall Filipino—and his shiny new cart, just follow your nose. The tangy garlic scent wafting from his pushcart will give him away.
Once you find him, order your $5 plate and watch as he scoops a few heaps of rice, piles on two drumsticks (or an occasional thigh if you're lucky) and spoons over the adobo sauce. Then dig in with the gusto of a man who's conquered many a mountaintop.
Or many a hill…