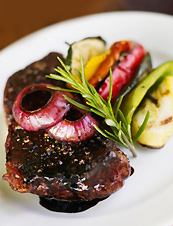 There's nothing wrong with the modern steakhouse.
Nothing
.
But sometimes you want a place that hearkens back to a bygone era, when men were cowboys, stank of leather and Stetson, and skewered steaks on tree branches and cooked them over an open fire, washing it all down with a classy jug adorned with three
X
s.
Here to transport you to that mystical era of overflowing beef and machismo is
Flamma Brazilian Steakhouse
, a new North Miami Beach tavern combining the joys of Brazilian dining with the thrill of Miami's waterfront.
If you're familiar with the genius of churrasco, you know the drill: you pay one flat fee (in this case, $40) for an all-you-can-eat parade of grilled delights, from filet mignon and tender prime rib to succulent chicken breast, salmon and lamb chops. There's no need to ever leave the table, as servers clad in gaucho uniforms proffer sizzling skewer after skewer of seared meat, plus constantly replenishing sides of rice and beans, fish stew and something called
Shrimp Bobo
(not to be confused with Shellfish Krusty).
When the weather cools to a manageable 70 degrees, you'll want to take your feast on the patio overlooking the canal. For now though, stay indoors, where copious wine and rustic leather benches provide the perfect backdrop for a totally inappropriate first date, assuming your date enjoys lots of meat.
You know what we mean.