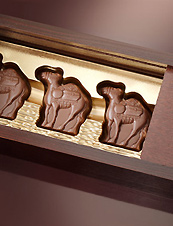 At this moment in the course of human events, things between America and our brothers in the Middle East remain a bit (shall we say) tense. But we think we've found something that—in some small way—might start us all down the long road to understanding.
And that road starts with chocolate—camel's milk chocolate.
Introducing
Al Nassma Chocolate
, made from the delicious milk of Dubai's finest camels and—thanks to the fine chocolatiers at San Francisco's Chocolate Covered—available stateside for the first time.
First things first: don't go looking for these online. Our hookup doesn't have a website, so you'll have to call with your request. Be warned that their stock is limited and going fast, so you'll need to be quick to have your choice of five flavors: milk, dark, date, orange and the always-tempting macadamia nut. Expect a clean, rarefied taste—something richer than what you get from typical cow's milk, and less gamey than bars sourced from other non-traditional animals like sheep. (Sheep, however, still produce better sweaters.)
And since you've long enjoyed sharing your exotic bounties with others, you should know that Ethiopians consider camel's milk a potent aphrodisiac—and given our rigorous empirical evidence that chocolate reduces inhibitions, we're expecting a whole new level of weapon here for your after-date arsenal. Oh, and mention to your candy-mate that Al Nassma is named for a wind that brings ocean coolness to the desert.
Actually, never mind: everyone's using that line these days.