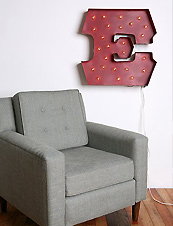 The apartment is finally coming together. Your bar is fully stocked. Your flat-screen is in perfect view—and those secret, embarrassing DVDs are well hidden. (Hey, that copy of
Yentl
on Blu-ray is nobody's business but yours.)
So, alert your friends: it's show time.
Here to help you set the scene is
Marquee Alphabet Letters
, a remarkably easy way to make sure you always get top billing when you tread the boards on that stage you call home.
Okay, so we admit spelling out your name with bright-red enamel-painted steel letters—illuminated with a constellation of incandescent bulbs, no less—might seem a little, well…Kanye.
But even if you just want to see your initials in lights—you do have the gift of understatement—because these are modeled after the kind of vintage marquee signs that you might see at an old-fashioned movie house, they still serve as ample warning to your party guests: prepare for an evening of action, laughs and, who knows, maybe a shootout.
If, however, you decide to hang them elsewhere in your apartment, say above your bed, they of course will say something else.
Night-lights are for B-listers.