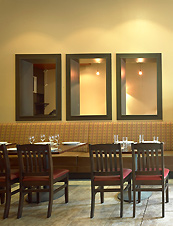 With all the temptation of
pig butchery
and
bacon lattes
, we've been neglecting the other white meat.
But, frankly, there hasn't been much to report about chicken—that is, until we found some fried extra crispy atop a golden waffle and glistening with a thick drizzle of brown-sugar syrup.
Welcome the much anticipated, and long-overdue
Gussie's Chicken & Waffles
—your new soul food haven that's putting poultry back on the map—slated to open Friday in the Western Addition.
Brought to you by chef/owner Michele Wilson, a vet from Roscoe's House of Chicken and Waffles, Gussie's (named after her grandmother, the brains behind the eatery's heirloom recipes) will satisfy your soul food, breakfast-for-dinner needs, one heap of fried chicken and waffles (buttermilk, buckwheat, sweet potato, banana pecan or cornmeal) at a time.
Formerly home to Powell's, Gussie's is like your grandma's home if she lived in the Low Country and whipped up fried chicken, black-eyed peas, collards and candied yams every night.
Take a banquette under the slow-moving ceiling fans and family photos hung on the chocolate-colored walls, order the signature homemade brown-sugar syrup topped dish, then spice things up as you forgo the usual can of beer pairing for the
Sweet Sticky Thang
—an apple-infused soju, lime and pineapple juice cocktail with hot caramel rim. Or perhaps go in for something more classic like margaritas made with agave wine, or a dry sauvignon blanc.
After all, we are in California.