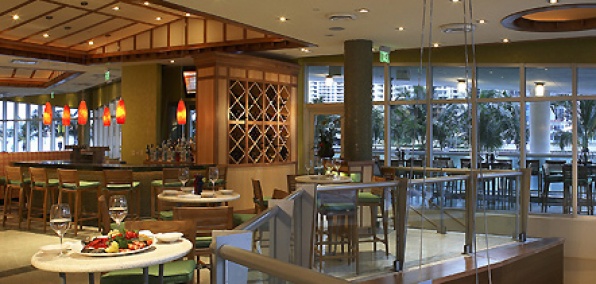 It takes a very special place to crack your power-lunch-spot lineup.
Water views are an absolute necessity. Tactful service helps. And then you need some other sensational X-factor. Like an 1800-degree hickory-burning grill, the most authentic tastes of the Caribbean or the palpable smells of searing, moist pork.
Or…all of the above. Introducing
Solymar Restaurant
, powering its way into your power-lunch rotation, starting this Thursday.
Taking over the old Prime Blue Grille locale, Solymar has all the elements to make your next mover-and-shaker powwow an easy, relaxed and Caribbean-stuffed affair. The dining room still has that breezy, ocean-liner feel, with floor-to-ceiling windows framing beautiful views of the bay and the ever-rising skyscrapers on Brickell. There's also that same open kitchen, with its aforementioned super-f*#!ing-hot hickory-burning grill ready to sear slabs of pork and locally caught snapper to perfection.
If you really want to seal the deal (on or
off
the clock…), head out to the riverfront balcony and claim one of the high-top tables. Start with plantain chips with garlic dipping sauce, then if things seem to be going well, move on to sugar cane-skewered gulf shrimp and adobo-marinated pork tenderloin.
As you know, nothing closes like pork.