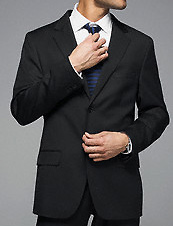 Now, you do pretty well in the style department—that's no secret.
But you're awfully busy to be putting any actual effort into that effortless look.
Enter the women of
White-Starr
, who'll ring your doorbell, strip you down and fix you up.
The
Vogue-
obsessed woman in your life can tell you more than you need to know about these women, but the short version is this. Now that they've expanded into men's services, they'll drop in, make you try on everything you own—you'll want to properly consider that day's choice of underwear—and kindly help you separate everything into three piles. 1) Keep. 2) Tailor. 3) For the love of all that is holy, never wear that again. (We paraphrase.)
After the remnants are totally reorganized, they'll draw you up an official Aesthetic Action Plan. Yes, you're already familiar with the likes of A.P.C. or Opening Ceremony, but they've seen what you've got (literally). So they know exactly which navy sport coat, black jeans and/or topsiders you need to pull it all together.
Then, they'll track down those items online and send you the links for quick plastic-burning.
So you can focus your efforts on all those other reasons for pants-removal.