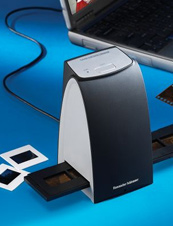 Try as you might, you can't repeat the past.
You can, however, upload it to your laptop and post it on the Internet. For good or for evil.
Introducing the
The Preserve Your Memories Slide and Negative Converter
, technology's answer to time travel, available now.
First off, we know what you're thinking: who still has negatives? They're out there, and you've probably got more of them than you realize. So think of this converter as a quick and easy way to relive—and maybe exploit—some not-so-distant days gone by. In short, you hook this magic box up to your computer (via USB), blow the dust off your old photo negatives that have been hanging out in a shoebox for 10 years, slide them in, and it begins converting them into Flickr-ready digital files.
So that classic snapshot of you in your Mathletes uniform—that's your new Facebook profile photo. And that picture of your brace-faced sister wearing Hammer Pants—she can relive that one all over the internet. And those grainy snaps from Paris that you thought disappeared in a haze of berets and absinthe...
Well, maybe it's best to keep those buried...