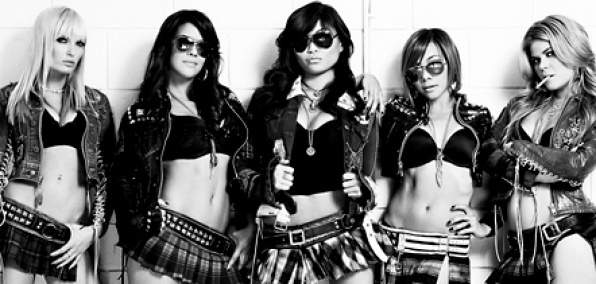 Ordinarily, there's a time for subtlety.

But when things get extraordinary, there's no such time. Like when the raucous new all-girl group called the Darling Stilettos take stage in Hollywood on Thursday.

So this is what happens. You wander into Cinespace, climbing the stairs you've ascended on some memorable nights of yore. And after winding your way toward the stage, you get your face melted off by a band that's something like the Pussycat Dolls, if any one of those girls could maybe take you in a dark alley. Plus, you know, the occasional acrobat.

Your not-to-be-messed-with ringleaders for the night are Matt Sorum, he of latter-days Guns N' Roses, and Kat Von D, she of serious tattooing on LA Ink.

But if those two don't do it for you, you should know that you'll be eyeing these beauties alongside guests like Mickey Rourke, Pink, Marilyn Manson, Slash, Carmen Electra, Seth Green and Macy Gray.

Finally, you can all catch up.