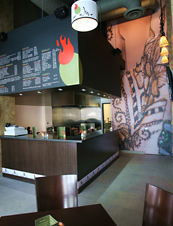 Let's say it's 4:45 in the morning.
Your legs are rubbery from dancing in the clubs until 3, you're still riding the wave of a martini buzz that began before midnight at the hotel bar, and a 4am dip in the ocean with a few friends (and very little clothing) has left you hungry.
In other cities, this would be a problem. But not in Miami. And especially not in another few days' time.
Introducing
Crazee Olive
, a new late-night go-to serving Middle Eastern street food until 6am on the weekends, opening this Friday.
First off, ignore the name, because there's nothing exceptionally crazy about this place, unless you consider serving crispy chickpea fritters and warm pitas stuffed with beef and lamb a new level of wackiness. It's just a bright, cleanly designed store located smack dab in the middle of club land on Washington Avenue. (Translation: come 2am, expect long lines and plenty of girls in stilettos staring longingly at one of the ten seats inside this pocket-sized place.)
The Lebanese chef previously worked some fine-dining spots in DC, meaning this is no mere corner kebab stand. The fries are tossed with Parmesan, garlic and parsley, and the chicken skewers are marinated in spicy harissa sauce and slow-cooked over an open flame for maximum juiciness.
At 5am, nobody wants subtle juice.