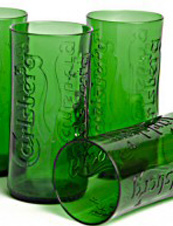 You'll do anything to help the environment. You're just that kind of person.
So if that means finding new and innovative ways to drink your cocktails, you're willing to do your part.
Here to help with your eco-crusade:
The Green Glass Company
, managing to combine your passion for the environment—and Jamaican beer—into the best vehicles for downing frosty beverages since the advent of the Mason jar.
By applying techniques usually reserved for creating fine-art glass sculptures to disused bottles of Corona, Sol, Carlsberg and Rolling Rock, these eco-craftsmen carefully remove the bottlenecks and smooth the rim, while keeping the distinctive labels intact. Now they're ready for whatever beverage you see fit to drink from them.
Imagine your next friendly gathering: As your guests venture into another weary discussion of cap-and-trade policies (it always comes up sooner or later, right?), you pull what looks like ice cold Red Stripe from the freezer.
But as you begin to pour your famous Dark and Stormies into these "bottles," your guests will realize—hey, those aren't bottles at all. And once you have their attention, you'll gently steer the conversation into livelier waters.
That's you: saving the earth one cocktail party at time.