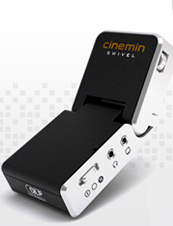 Summer's finally in full bloom, which means the outdoors are aglow with the splendorous sights of the season: panoramic blue skies, beauties sunning themselves by the pool and, of course, Will Ferrell running naked inside your tent.
We'll explain that...
Introducing the
WowWee Cinemin Swivel
, a pocket-sized gadget that lets you play big-screen movies anywhere, available for pre-order now.
Basically, it's a tiny gadget that turns your life into one big movie theater. Like everything these days, it's designed for iPods and iPhones, but it also works with anything that can store digital video, from laptops to camcorders. Whatever your chosen device, just plug it in and point the thing toward the nearest available flat surface—your ceiling (unless, of course, it's mirrored), the inside of an empty swimming pool, or a wall inside your friendly neighborhood watering hole—and behold, Debbie
is
doing Dallas.
For optimum movie magic, set it up about six feet away from the wall, which makes the picture about five feet diagonal—big enough for mass viewing, but high-q enough for cinephiles. The battery will last you about two-and-a-half hours, so you can watch most of the Godfather.
Or all of Paul Blart: Mall Cop.
Choices...