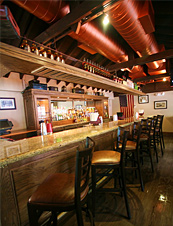 As our country's time-honored day of independence swiftly approaches, your thoughts turn to the qualities that make this country great. You know, things like life, liberty and the pursuit of burger happiness.
And when it comes to historically significant beef patties in Miami, one mighty bunned stalwart stands on a pedestal all its own: the classic Taurus burger in Coconut Grove.
So it is with tremendous joy, excitement and intense mouthwatering-ness that we tell you to prepare your taste buds to saddle up and ride again: the bullish burger returns when
Taurus Another Round
opens this Saturday, kicking things off with an open-bar blowout.
Housed in the same colonial-style cottage that closed its doors in 2002 after 84 years of proud burger service, the new Taurus still has that edge-of-the-city, hitching-post feel, only now your elbows will rest on a marble bar, and you'll notice the occasional truffle french fry (don't take it as a sign of bourgeois softness…they just wanted to give you more potato).
Come here to unwind after work or to spend a lazy Saturday exercising your constitutional right to vilify politicians, not to mention your constitutional right to drink dragonfruit mojitos. But the biggest draws remain the simplest ones—a blackboard menu full of genius-ly realized pub fare like wings, dips and that wondrous, juice-steeped burger.
Eat it for your country.