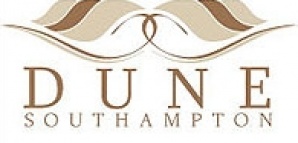 Like too-tight jeans or all-you-can eat sushi, you normally approach
strongly themed clubs
with extreme caution.
But with Memorial Day a week away and Hamptons Fever nearing critical mass, you'll make an exception for
Dune
, the new club opening this Thursday in Southampton.
Launched—or, shall we say, shoved off—by the guys behind Marquee, Dune is your spot for nautical-themed nightlife on the East End. Designed by Steve Lewis (Butter,
Amalia
) in the vast 6,000-square-foot space once occupied by Jet East, Dune exudes yacht club chic—yeah, we didn't think it was possible either—with touches like antique fishing lures hung from the ceiling, glass-blown buoys behind the main bar, framed photographs of seafaring Thurston Howell-types and thick maritime rope throughout the club.
But the Captain-Stubing-meets-Ralph-Lauren vibe doesn't end there. You'll also find 19th-century nautical maps along the walls, bartenders in blue polos and khakis and cocktail waitresses in slinky navy dresses—ask them to bring you
The Anchor
(vodka, lime, soda, cranberry splash) and settle in at one of 36 bi-level tables.
All in all, not a bad place to be shipwrecked.