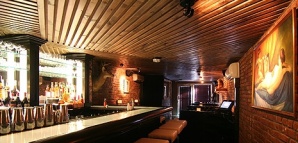 When someone has a secret, everyone goes excavating. (And when it involves deep-fried frankfurters, look out.)

So you may have already heard some buzz about PDT, the sneaky, behavior-conscious new speakeasy opening the start of next week adjacent to Crif Dogs on St. Marks. PDT stands for Please Don't Tell—but, for you, we'll tell.

To get to PDT, walk down the four steps into Crif Dogs. Along the dive's left wall, you'll find a wooden phone booth from the 1940s. (On some nights, you'll also find a man working the door—making Crif Dogs the first hot dog stand in America with a bouncer.) Enter the camera-installed booth, pick up the phone and press a button. As you wait for bartender Jim Meehan (Gramercy Tavern) to check you out on his monitor and buzz you in, note the rules of etiquette posted nearby—e.g., don't hit on women you don't know.

Once inside, you'll find a low-ceilinged, very dimly lit space for 45, with three large black leather booths and plenty of taxidermy (otter, raccoon, jackalope, etc.). You'll hear classic rock, old-school hip hop and Sinatra, and you'll taste classic-minded cocktails like Aviations and gin and tonics. Food-wise, you'll be able to order from the Crif Dogs menu—the fare is sent through a small slot behind the bar—plus a few new Crif dogs will be created exclusively for PDT. (Sorry, we were sworn to secrecy.)

And before you leave, be sure to check out the bathrooms, which feature glass-shard mosaics from artist Jim Powers and signs declaring, "No Opium Smoking" and "No Cocaine Peddling."

There they go again with those rules...