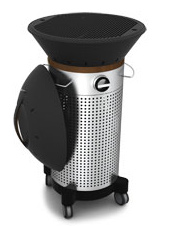 Your barbecues have always been things of beauty—from the perfectly charred T-bones to the perfectly curated bevy of carnivorous stunners to that time you wound up in the pool wearing nothing but an apron.
 
But sadly, your grill has never been part of the beautifying. Until now...
 
Introducing Element by Fuego, an impossibly handsome—yet awesomely versatile—piece of outdoor hardware, now available for pre-order.

First off, a warning: expect to get a barrage of compliments on this thing—the unconventional design comes courtesy of a guy who designed computers for Apple back in the day. (Whether you actually call it an iGrill, of course, is up to you.)
 
Now back to the function. Say you're flipping burgers, and a vegetarian crashes the party. (We know, we know.) Put this thing's Dual Zone Burners into action—it lets you set two sections of the grill to two totally different temperatures. From there, rest your koozie on the handy little tray that swings out from under the cooking surface, and let the machine take some of the heat off of you. There are four cooking presets—including one for pizza, on the off chance you get bored of steak.
 
Hey, if Leo could get bored of Bar Refaeli...