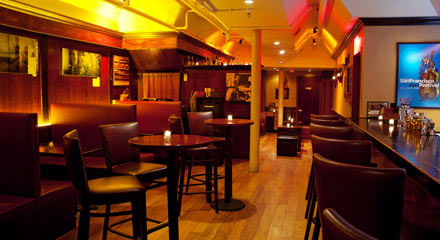 You've got a great title. Others are still working on theirs.

Take your drink maker. First that person was known as a bartender. Then, when that name gathered too much baggage, it was swapped for mixologist. Now, at fine drink parlors like the new B Flat—opened last night in Tribeca—a new moniker/level of excellence has emerged:

The bar chef.

"A mixologist is just a bartender," smack-talks B Flat's Winston Leung, one of four veteran bartenders—sorry, bar chefs—making the jump from the East Village hideaway Angel's Share. "Anybody can be a bartender. Not anybody can be a bar chef. You have to care what you give people."

Downstairs at the mellow and sophisticated B Flat, your bar chef—either Winston, Shin, Kenny or Tatsuo—meticulously measures each ingredient, uses three different sizes of ice cubes (the largest of which is filtered, frozen, chopped and chiseled in-house) and only takes your order if you're sitting down (because greatness shouldn't be rushed). Carrying through with the bar's music theme, all the specialty cocktails are named after jazz pieces—like Duke Ellington's Sophisticated Lady (plum wine, Campari and grapefruit juice) and Sonny Clark's Cool Struttin' (shiso-infused vodka and tonic)—and the only music you'll hear in the small, darkly lit space will be from jazz artists.

Which is fine by us, because that's actually one of our favorite types of music chefs.