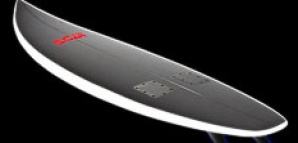 You're clever.

But even you're running out of creative ways to explain those two-hour "lunches" you spend shredding the Pacific.

Good news, brah. Now you can go after work—or even in the middle of the night. Introducing: the Light Wave Surfboard.

Developed by Santa Cruz Light Wells, makers of the illuminating guitar pick, the Light Wave Surfboard uses replaceable batteries to power a white headlight on the board's nose (making that incoming wave easier to see) and side rail lights (to prevent wipeouts with fellow surfers). Fin color and board length are negotiable, and the surfboards are made to order in about six to twelve weeks. Plus, the company will soon release a model that incorporates the lighting in a more expressive capacity—e.g., a dragon graphic with lit up eyes (sort of like your old skateboard…or not).

And in case the slopes are more your bag, you'll be happy to hear that the company's patent also covers snowboards, and it plans to debut a Light Wave Snowboard this fall. Of course, all this improved visibility means one less excuse you can use when you eat it.

But this probably won't affect you much.