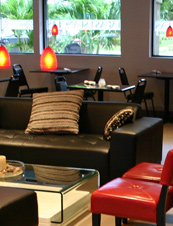 Over the weekend a friend from Sunny Isles called us up.
Usually, we like to keep our distance from the condo canyon, but this was a friend who went back a ways with us (and who had an attractive younger sister…), so when he asked if we were up for dinner in his neighborhood, we took him up on the offer and ended up at
Calafate Grill
.
It's a new tapas lounge on A1A that quietly opened a few weeks ago and whose happy hour alone would be worth the drive.
Named after a small town in Argentina, it's the kind of cozy and sleek beerhouse you'd find on a dusty road in Patagonia (a dusty road with strip malls, that is), with a mosaic-tiled bar, mod leather furniture and plenty of outdoor seating.
Seeing as how it was still happy hour (it runs Tuesday-Sunday from 4:30-6:30pm), we set about sampling the various tapas, beer and sangria, all of which were three bucks apiece. Out came a parade of small-plate, taste-bud fiestas like
Pinchos de Pollo y Tocino
(grilled chicken breast wrapped with bacon),
Camarones al Vinajo
(shrimp sautéed with garlic, white wine and cream) and
Patatas Bravas
(deep-fried potatoes topped with fiery cayenne pepper sauce).
After a few frosty Modelos, one could almost be forgiven for thinking he'd stumbled onto a neighborhood joint somewhere in South America.
Almost.