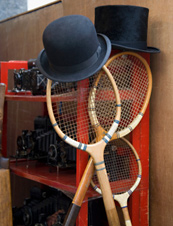 Every once in a while, you come up short.
On those rare occasions, you might just need to borrow something to fix a small emergency or create a large impression—a cup of sugar, Dad's convertible…a portable
electric fireplace
. But until now, finding someone to actually make it happen has been nothing short of a chore.
Enter
iletyou.com
, a new website connecting you with hundreds of thousands of things to rent—not to mention people looking to rent from you.
What distinguishes the site from similar ventures is the breadth of what's on offer. Through the site, you can borrow everything from a Ralph Lauren blazer (for fancy occasions) or a
Dumb and Dumber
–inspired tuxedo (for fancier occasions) to a Porsche 911, for far less than retail. Throw in some diamonds for the lady—seriously—and you're golden. Need to scrape together some pocket money? Rent out that camera you haven't picked up since Christmas (clear the memory card so no one takes credit for your brilliant "blurry sort-of-tree-like thing" series).
Should you need somewhere to go, the site can help you set up a pretty sweet shindig of your own. A quick search revealed tables for air hockey and foosball, machines for snow cones, margaritas and foam (the holy trinity of any killer party), and, of course, chocolate fountains. They'll even rent you a bouncer to keep out any undesirables—after all, there's no point in getting your hands dirty.
That's what the chocolate fountain is for.