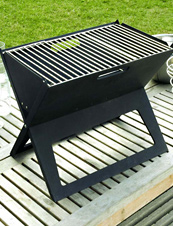 Ah, the beauty of a lakefront barbecue: a nice blanket spread on the ground. A couple ice-cold beers. Maybe a few brats.
Then again, who needs the lakefront? Introducing the
Notebook Grill
, an ingeniously sleek, portable barbecue device, letting you set up camp wherever you damn well please.
While mini grills aren't exactly new—you've dabbled with a Weber Baby or two in your time—this sturdy, collapsible eight-pounder looks like the kind of thing Mies van der Rohe would have brought to BBQ. A study in less-is-more simplicity, the Notebook Grill folds flat and has a built-in handle, making it as easy to carry as your average folding chair—just be careful not to get the two confused.
When you settle on an appropriately shady site, merely swing it open and set it down, and it's ready to be filled with your favorite briquettes. The V-shaped design offers even heat distribution (we know how you're a stickler for medium rare) and a stainless steel grate offers a surprisingly large cooking surface, in case you find yourself cooking for the masses.
Your cookouts always have drawn a crowd.