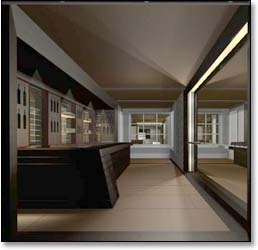 The pesky thing about living in the city is that there's just no space to park your Escalade. And no place to look appropriate in a satin smoking jacket with a cigar between your teeth, stretched out on a bearskin rug with your ladies.
There now is a place to fill this gaping hole in your life.
Manor, the new club in the old
Pink Elephant
space, soft opening tomorrow night, is looking to inject a little estate-like aristocracy into your night.
The space is heavy on the walnut and leather, as every proper manor should be. Between the leather floors in the front Bar Room, black pony-haired banquettes, and walnut wood-trimmed everything, you'll feel like you're in a gentleman's study (add walnut paddles and gold plated harnesses and it could be an elegant bondage room). A DJ will spin house music from a 24-karat gold-trimmed DJ booth, and the new downstairs is a sleek haven, perfect for private events, with a 60-inch plasma screen hidden behind mirrors (and that clutch bearskin rug).
The club has a complimentary fleet of 2006 Cadillac Escalades ready to transport you to your next destination. And for nights when the Eastern Time Zone just doesn't cut it anymore, a call on the private Marquis Jet phone at the hostess booth will get you on a quick flight out of Dodge.
Here's hoping this isn't the kind of place you'll want to leave in that kind of a hurry.