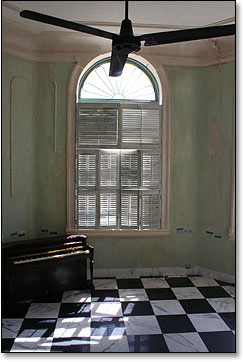 At heart, you're a man of the people.
Which is why we're rather excited to bring you a first look inside the finished $2 million West Village "peasant" saloon,
Socialista
.
Opening over the weekend to friends and family, Socialista is your chance to live and lounge like the common folk of Havana circa 1940. The vision of former Bungalow 8 doorman Armin Amiri—and the investment of restaurateur Giuseppe Cipriani, Trudie Styler and Sting—Socialista is modeled after a Cuban pharmacy bar and other dusky habitats from the pages of
Havana
by photographer Robert Polidori.
So if you make the trek to the Hudson and step inside Socialista (we can tell you it's worth the trip), you'll find colonial-architecture-in-decay touches like peeling green-sherbet walls, slowly circulating ceiling fans, rickety wooden shutters and distressed leather Ralph Lauren couches. (A perfect match for your pre-ventilated jeans.) You'll also hear world music—no hip hop—and live three- and four-piece Cuban bands.
Staying with the old-school socialist motif, champagne and wine bottles will be lowered from a hole in the third floor storage area by a rope and basket, and Amiri says his space will serve only those celebs "who don't want their asses kissed." So don't cut in line when ordering one of Cyrus Kehyari's (Double Seven) freshly squeezed cocktails—we recommend the white-rummed
Hemingway
—or even a steak sandwich from the downstairs cafe that's opening in a couple of weeks.
Remember, everyone's equal around here.