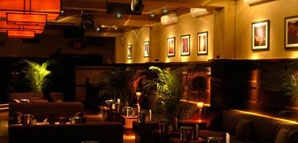 We appreciate models as much as the next guy...but we appreciate models dancing on banquettes a little more than most. We have been personally assured that at The Plumm, a new (semi) private nightclub soft opening this weekend, this practice will be highly encouraged, not to mention made a whole lot safer (because let's be honest, nothing is more tragic and heartbreaking than an injured model).

The former Nell's space is now an indulgent wood-paneled clubhouse—and for the safety and well-being of bouncing women everywhere, the banquettes have been custom-built with thick, sturdy backrests, covered in a special synthetic fiber to withstand even the most drunken and uncoordinated stiletto movements.

Good thing, because Plumm's celeb-heavy owners know a thing or two about a party—they include Mr. Big himself, Damon Dash, and supermodel Petra Nemcova. Add nightlife mogul Noel Ashman and other oddly matched co-owners like ex-New Kid on the Block Joey McIntyre, and there's really no telling what's going to happen on those banquettes after a few plum-based cocktails.

The DJ will spin house, hip hop and rock, there's a mini-stage ripe for live performances, and the downstairs lounge has an old-fashioned telephone booth converted into a soundproofed "cell phone booth." Those not sporting membership keychains can still revel in what will likely be an upscale, eclectic scene via the reservation line.

And for the possibility of a Damon Dash-NKOTB tabletop dance-off, we will certainly be in attendance.