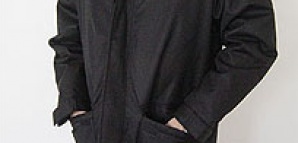 It's nasty out there.
And in a town with this much penchant for drizzle—not to mention the occasional crime spree—an umbrella just isn't enough protection. Hence the
Bulletproof Raincoat
.
Designed to fit the European Police Standard for bulletproof vests, this low-key zip-up will shield you from wind, rain and a .44 Magnum. (Brush up on your kung fu and you'll be ready for anything.) Made of ballistic polyester canvas, the stealth armor weighs less than seven pounds, so you won't look or feel like you're covered in sheet metal. And because it's also stab-proof, you're immune to slashes from switchblades, ice picks, hypodermic needles and broken bottles (in other words, perfect for Thursdays at the White Horse).
The jacket comes from the English company Spycatcher, previously your overseas source for lo-jacks and cell phone interceptors. They offer the same bulletproofing in a
denim
or
bomber
edition (in case you ever need to go undercover as a longshoreman). For the boardroom, there's the
Executive Waistcoat
, which can be worn under a suit jacket so that no one has to know about your precautionary measures but you.
Because when it's time for annual performance reviews, there's a fine line between acute paranoia and shrewd business sense.